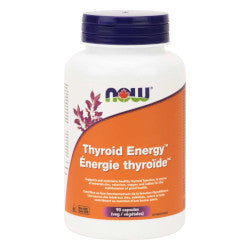 Now Thyroid Energy - 90 Capsules
Now has combined Iodine and Tyrosine, the two integral constituents necessary for the synthesis of thyroid secretions. The minerals Selenium, Zinc and Copper have been added as cofactors needed for normal thyroid function. Now Thyroid Energy contains herbal extracts from Guggul (Commiphora mukul) and Ashwagandha (Withania somnifera) to complement its nutritional support components.
Brand: Now Foods
Format: Vegetarian Capsules
Amount: 90 Capsules
Medicinal Ingredients - Each Capsule Contains:
Vitamin B6 (from Pyridoxine Hydrochloride) ..... 1 mg
Folate (as Folic Acid) ..... 200 mcg
Vitamin B12 (as Methylcobalamin) ..... 30 mcg
Zinc (from L-OptiZinc: Zinc L-Methionine Complex) ..... 12.5 mg
Selenium (from L-Selenomethionine) ..... 25 mcg
Copper ..... 500 mcg
L-Tyrosine ..... 500 mg
Iodine (from Potassium Iodide) ..... 112.5 mcg
Guggul (Commiphora wightii (Gum Resin) ..... 37.5 mg
     (Standardized to contain 2.5% Guggulesterones)
Ashwaganda Root (Withania somnifera) ..... 25 mg
     (Standardized to min. 2.5% Withanolides)
Non-Medicinal Ingredients: Veg capsule (hypromellose, water), cellulose, magnesium stearate (vegetable source), silica.

NPN: 80040252