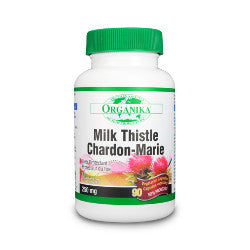 Organika Milk Thistle 250 mg - 90 Capsules
Milk Thistle acts as a potent liver protectant, helping improve liver function and detoxifying activity throughout the body. Organika Milk Thistle is sourced from the Silymarin seed - not the flower - for maximum potency and benefit.
Brand: Organika
Type: Vegetarian Capsules
Amount: 90 Capsules

Medicinal Ingredients - Each Vegetarian Capsule Contains:
Milk Thistle Seed Standardized 80% Extract ..... 250 mg
     (Silybum marianum L.) (Providing 200 mg of Silymarin)
Non-Medicinal Ingredients: Magnesium Stearate, Microcrystalline Cellulose, Brown Rice Flour, Hypromellose / Pullulan (Vegetarian Capsule).
NPN: 80000207