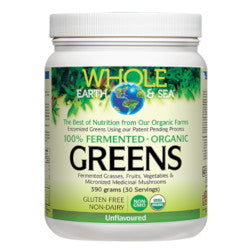 Whole Earth & Sea Fermented Greens Unflavoured - 390 grams
Organic Greens features a fruit, vegetable, and grass blend grown at Factors Farms in British Columbia's Okanagen valley. The formula also features a blend of micronized medicinal mushrooms including cordyceps, reishi, himematsutake, shiitake, maitake, and turkey tail rich in polysaccharides.
Brand: Whole Earth & Sea
Format: Powder
Amount: 390 grams
Flavour: Unflavoured
Ingredients - Each Scoop (14.6 grams) Contains:
Fermented Organic Protein Blend - pea protein, rice protein, amaranth, hemp protein, quinoa; Fermented, Organic Fruit, Vegetable, and Grass Blend - alfalfa, carrot, barley grass, apple, blueberry, cranberry, broccoli, cabbage, arugula, cauliflower, red radish, upland cress, watercress, wheatgrass, kale, parsley, spinach, tomato, beet, pepper, Swiss chard, spearmint, celery, basil, artichoke, black radish, cilantro, dandelion; organic flavours; organic acerola cherry extract; organic rebaudioside A; Fermented Organic Mushroom Blend - cordyceps, reishi, himematsutake, shiitake, maitake, turkey tail.