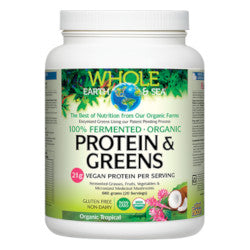 Whole Earth & Sea Protein and Greens Tropical - 660 grams
Organic Protein and Greens is a 100% fermented formula providing 21 grams of quality plant protein in every serving. This exceptional non-GMO, vegan friendly green superfood formula contains fermented grasses, fruits, vegetables, and micronized medicinal mushrooms to support an active, healthy, and sustainable lifestyle.
Brand: Whole Earth & Sea
Format: Powder
Amount: 660 grams
Flavour: Organic Tropical
Medicinal Ingredients - Each Scoop (33 grams) Contains:
Fermented, Organic Protein Blend - pea protein, rice protein, amaranth, hemp protein, quinoa; Fermented, Organic Fruit, Vegetable, and Grass Blend - alfalfa, carrot, barley grass, apple, blueberry, cranberry, broccoli, cabbage, arugula, cauliflower, red radish, upland cress, watercress, wheat grass, kale, parsley, spinach, tomato, beet, pepper, Swiss chard, spearmint, celery, basil, artichoke, black radish, cilantro, dandelion, organic flavours, organic acerola cherry extract, organic rebaudioside A; Fermented, Organic Mushroom Blend - cordyceps, reishi, himematsutake, shiitake, maitake, turkey tail.