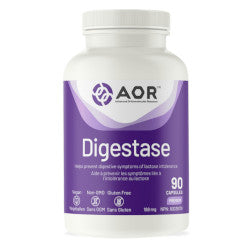 AOR Digestase 188 mg - 90 Capsules
Digestase is a vegetarian formula providing seven types of digestive enzymes, helping digest protein, fats, fibres, starches, legumes, and lactose.
Brand: Advanced Orthomolecular Research (AOR)
Format: Capsules
Amount: 90 Capsules
Medicinal Ingredients - Each Capsule Contains:
Amylase (from Aspergillus oryzae) ..... 3000 DU*/75 mg
Protease (from A. oryzae) ..... 20 200 HUT*/40.4 mg
Protease (from Aspergillus niger) ..... 10.1 SAP*/9.4 mg
Alpha galactosidase (from A. niger) ..... 86.67 GaIU*/8.7 mg
Invertase (from Saccharomyces cerevisiae) ..... 400 SU*/4 mg
Lactase (from A. Oryzae) ..... 3000 ALU*/ 30 mg
Lipase (from A. niger and Rhizopus oryzae) 250 LU*/12.5 mg
Cellulase (from A. niger) ..... 600 CU*/8 mg
*FCC approved units
Non-Medicinal Ingredients*: Microcrystalline cellulose, maltodextrin (tapioca and potato), dextrin, sodium chloride, calcium gluconate, D-mannitol and sodium citrate Capsule: hypromellose.
*NMI's are subject to change. Always read and follow the label for accurate ingredient and allergy information.
NPN: 80036178