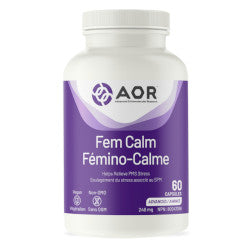 AOR Fem Calm 248 mg - 60 Capsules
Fem Calm is used in herbal medicine as a hormone normalizer to help stabilize menstrual cycle irregularities and to help relieve premenstrual symptoms. It is also used as an adaptogen to help temporarily relieve symptoms of stress (such as mental fatigue and sensation of weakness).
Brand: Advanced Orthomolecular Research (AOR)
Format: Capsules
Amount: 60 Capsules
Medicinal Ingredients - Each Two Capsules Contain:
Chasteberry extract (Vitex agnus-castus) ..... 20 mg
Rhodeola rosea extract (1-6% rosavin, 0.8-3% salidroside) ..... 144 mg
Ashwagandha extract (Withania somnifera) ..... 300 mg
Vitamin B6 (pyridoxal-5-phosphate) ..... 30 mg
Vitamin B12 (methylcobalamin) ..... 1 mg
Folic acid (calcium L-5-MTHF) ..... 300 mcg
Non-Medicinal Ingredients*: Silicon dioxide, microcrystalline cellulose, maltodextrin and dextrin Capsule: Hypromellose.
*NMI are subject to change, Always read and follow the label for accurate ingredient and allergen information.
NPN: 80047096