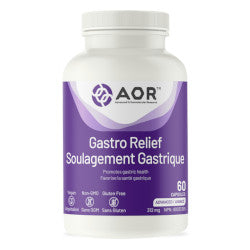 AOR Gastro Relief 312 mg - 60 Capsules
Gastro Relief relieves symptoms of heartburn while addressing potential causes, healing the gastric lining, protecting the esophagus, and killing H. pylori.
Brand: Advanced Orthomolecular Research (AOR)
Format: Capsules
Amount: 60 Capsules
Get free Canada Post Expedited Parcel shipping anywhere in Canada when you purchase this product at Erbamin.
Medicinal Ingredients - Each Two Capsules Contain:
Zingiber officinale extract (ginger) ..... 50 mg
Zinc L-carnosine ..... 75 mg
Pastacia lentiscus (mastic gum) ..... 400 mg
Vitamin C (ascorbic acid) ..... 100 mg
Non-Medicinal Ingredients*: Potassium nitrate (202 mg), sodium alginate, microcrystalline cellulose, silicon dioxide, sodium stearyl fumarate, maltodextrin, calcium carbonate, calcium chloride, hydrochloric acid and sodium hydroxide.
*NMI's are subject to change. Always read and follow the label for accurate ingredient and allergen information.
NPN: 80033385