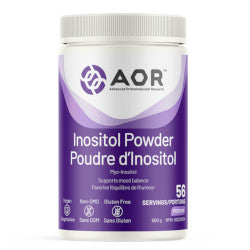 AOR Inositol Powder - 500 grams
Research suggests that high doses of this molecule can address the symptoms of behavioral disorders such as mood imbalances and worrying.
Brand: Advanced Orthomolecular Research (AOR)
Format: Powder
Amount: 500 grams
Get free Canada Post Expedited Parcel shipping anywhere in Canada when you purchase this product at Erbamin.

Medicinal Ingredients - Each Tablespoon (Approximate) Contains:
myo-Inositol* ..... 9.0 grams
*Source: synthetic phytin
Non-Medicinal Ingredients*: none
*NMI's are subject to change. Always read and follow the label for accurate ingredient and allergen information.
NPN: 80028804