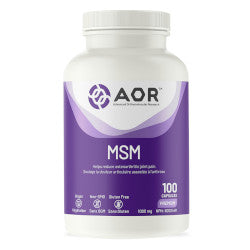 AOR MSM 1000 mg - 100 Capsules
MSM, a beneficial form of sulfur, helps maintain healthy joint structure and function, reducing pain and inflammation as a result. It helps reduce allergy symptoms and enhances nutrient absorption.
Brand: Advanced Orthomolecular Research (AOR)
Format: Capsules
Amount: 100 Capsules
Medicinal Ingredients - Each Capsule Contains:
Methylsulfonylmethane (MSM) ..... 1000 mg
Non-Medicinal Ingredients*: Sodium stearyl fumarate Capsule: hypromellose
*NMI's are subject to change. Always read and follow the label for accurate ingredient and allergen information.

NPN: 80004411