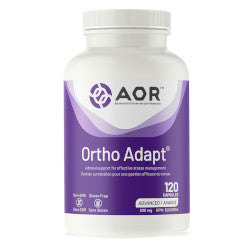 AOR Ortho Adapt - 120 Capsules
Ortho Adapt is used in herbal medicine to help improve mental or physical performance after periods of exertion and as a tonic to help relieve general debility. It mobilizes internal energy stores, activates whole body defenses and reduces the impact of stressful conditions.
Brand: Advanced Orthomolecular Research (AOR)
Format: Capsules
Amount: 120 Capsules
Medicinal Ingredients - Each Four Capsules Contain:
Porcine adrenal gland cortex ..... 500 mg
Vitamin C ..... 500 mg
B5, pantothenic acid (pantethine, calcium D-pantothenate) ..... 200 mg
Glycyrrhiza glabra (licorice extract 5:1) ..... 800 mg
Eleutherococcus senticosus (Siberian ginseng 9-15:1) ..... 200 mg
Rhodiola rosea (1-6% rosavins, 0.8-3% salidroside) ..... 150 mg
Withania somnifera (ashwagandha extract 10:1) ..... 200 mg
Non-Medicinal Ingredients*: Microcrystalline cellulose, sodium stearyl fumarate, silicon dioxide. Capsule: hypromellose, carrot root powder.
*NMI's are subject to change. Always read and follow the label for accurate ingredient and allergen information.
NPN: 80039354