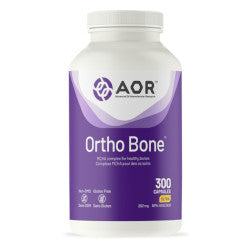 AOR Ortho Bone MCHA Complex 202 mg - 300 Capsules
Ortho Bone provides active, effective forms of key bone-health nutrients, promoting growth and density while reducing bone loss.
Brand: Advanced Orthomolecular Research (AOR)
Format: Capsules
Amount: 300 Capsules
Get Free Canada Post Expedited Parcel shipping anywhere in Canada when you purchase this product at Erbamin.
Medicinal Ingredients - Each 10 Capsules Contain:
Calcium (from bone meal [MCHA] complex)* ..... 1000 mg
Phosphorus (from bone meal [MCHA] complex)* ..... 455 mg
Magnesium (from magnesium citrate, ascorbate) ..... 420 mg
Vitamin D3 (as vegan cholecalciferol) ..... 1000 IU (25 mcg)
Vitamin K2 ..... 120 mcg
     MK-4 ..... 60 mcg
     MK-7 ..... 60 mcg
Boron (from boron citrate) ..... 700 mcg
Zinc (from zinc citrate) ..... 11 mg
Manganese (from manganese bisglycinate) ..... 2.3 mg
Copper (from copper citrate) ..... 1 mg
Silicon (HVP chelate from soy) ..... 35 mg
Folic acid (as calcium L-5-MTHF) ..... 400 mcg
Vitamin B12 (as methylcobalamin) ..... 24 mcg
Vitamin C (from magnesium ascorbate) ..... 90 mg
*Guaranteed free of bovine spongiform encephalopathy
Non-Medicinal Ingredients*: Microcrystalline cellulose, tocopherols, acacia gum, starch (corn), sucrose, maltodextrin, tricalcium phosphate, sodium stearyl fumarate, silicon dioxide, medium-chain triglycerides, glycine. Capsule: Hypromellose.
*NMI's are subject to change. Always read and follow the label for accurate ingredient and allergen information.

NPN: 80023808