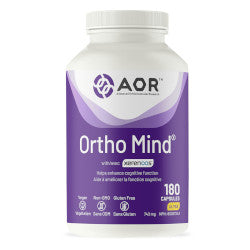 AOR Ortho Mind 743 mg - 180 Capsules
Ortho Mind helps protect brain structure and function, while protecting it from damage, by providing nutrients that support focus, memory, and energy supply to the brain.
Brand: Advanced Orthomolecular Research (AOR)
Format: Capsules
Amount: 180 Capsules
Get free Canada Post Expedited Parcel shipping anywhere in Canada when you purchase this product at Erbamin.
Medicinal Ingredients - Each Six Capsules Contain:
R(alpha)-lipoic acid (sodium salt)* ..... 100 mg
Panax ginseng extract (30:1) ..... 100 mg
Bacopa monnieri extract (50-55% bacosides) ..... 300 mg
ALCAR (Acetyl-L-Carnitine) ..... 1500 mg
Xerenoos (citicoline) ..... 500 mg
Arginine pyroglutamate ..... 1500 mg
Pantothenic acid (calcium-D-pantothenate) ..... 460 mg
*Contains 11 mg sodium per serving
Non-Medicinal Ingredients*: Sodium stearyl fumarate Capsule: Hypromellose.
*NMI's are subject to change. Always read and follow the label for accurate ingredient and allergen information.
NPN: 80037243