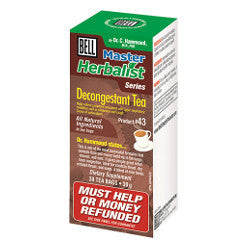 Bell Decongestant Tea 1 gram - 30 Tea Bags
Bell Decongestant Tea is a herbal decongestant formula designed to combat fluid and mucous build-up in the lungs, sinuses, and ears. It will ease congestion caused by fever, colds, flus, allergies, and other pollutants. It is also ideal for a scratchy throat, as well as dry, irritated throat and lungs.
Brand: Bell Lifestyle
Format: Tea Bags
Amount: 30 Tea Bags (1 gram Each)
Ingredients: Cardamom (Elettaria cardamomum) (seed) 170 mg, Fenugreek (Trigonella foenum-graecum) (seed) 170 mg, Bitter fennel (Foeniculum vulgare var. vulgare) (seed) 116 mg, Eucalyptus (Eucalyptus globulus) (leaf) 115 mg, White horehound (Marrubium vulgare) (herb) 92 mg, Rosemary (Rosmarinus officinalis) (leaf) 90 mg, Thyme (Thymus vulgaris) (leaf) 84 mg, Oregano (Origanum vulgare) (leaf) 83 mg, Elecampane (Inula helenium) (root) 80 mg. (Amounts based on 1 tea bag/1000 mg).