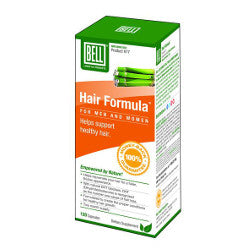 Bell Hair Formula for Men and Women - 120 Capsules
Hair Formula for Men and Women, with powerful DHT blockers, unites biotin and fo-ti extract with other botanical extracts backed by centuries of traditional wellness practices. Featuring the right balance of ingredients to provide the proper conditions to avoid the falling of hair, Hair Formula gives your scalp the nourishment it needs to promote the growth of thick, lustrous, healthy hair.
Brand: Bell Lifestyle
Format: Capsules
Amount: 120 Capsules
Ingredients: Beta-sitosterol (Phytosterol) 199.5 mg, Fo-ti extract 12:1 (Polygonum multiflorum) (root) 195 mg, Fenugreek extract 10:1 (Trigonella foenum-graecum) (seed) 195 mg, Bamboo extract (Bambusa vulgaris) (stem) (70% silica) 25 mg, Stinging nettle extract 10:1 (Urtica dioica) (leaf) 5 mg, Rosemary extract 10:1 (Rosmarinus officinalis) (leaf) 5 mg, Biotin (Vitamin B7) 45 mcg.