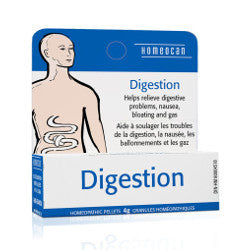 Homeocan Digestion Pellets - 4 grams
Digestion Pellets are a homeopathic solution used to help relieve digestive problems, nausea, bloating, and gas.
Brand: Homeocan
Type: Pellets
Amount: 4 grams
Medicinal Ingredients: Dolichos pruriens 3X, Lycopodium clavatum 3X, Leptandra virginica 3X, Carduus marianus 3X, Chelidonium majus 3X, Nux vomica 3X.
Non-Medicinal Ingredients: Lactose, saccharose.
DIN-HM: 80004518