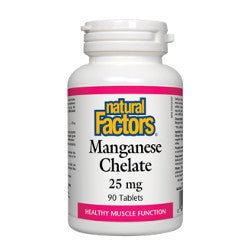 Natural Factors Manganese Chelate 25 mg - 90 Tablets
Natural Factors Manganese Chelate is easily absorbed and free from artificial colours, sweeteners, dairy, wheat, and yeast. Manganese is essential for healthy bone structure and metabolism, as well as the breakdown of carbohydrates, fats, and proteins.
Brand: Natural Factors
Format: Tablets
Amount: 90 Tablets
Medicinal Ingredients - Each Caplet Contains:
Manganese (HVP* Chelate) ..... 25 mg
* HVP: Hydrolyzed Vegetable Protein
Non-Medicinal Ingredients: Dicalcium phosphate dihydrate, microcrystalline cellulose, vegetable grade magnesium stearate (lubricant), croscarmellose sodium.
NPN: 02238397