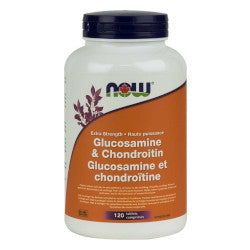 Now Glucosamine & Chondriotin Extra Strength - 120 Tablets
Glucosamine & Chondroitin are naturally occurring structural components that have recently enjoyed growing popularity. Glucosamine is an amino sugar derived from the chitin of shellfish and is used by the body to support healthy joint structures. Chondroitin complements Glucosamine and works synergistically to provide optimal nutritional support.
Brand: Now Foods
Format: Tablets
Amount: 120 Tablets
Medicinal Ingredients - Each Tablet Contains:
Glucosamine Sulfate ..... 750 mg
     (Glucosamine Sulfate*Potassium Chloride from shellfish
     [Crustacean spp.] exoskeleton)
Chondroitin Sulfate (Cattle [Bos spp.] trachea) ..... 600 mg
Non-Medicinal Ingredients: Cellulose, stearic acid (vegetable source), magnesium stearate (vegetable source), silica, tablet coating (hypromellose, stearic acid (vegetable source), cellulose).
NPN: 80001894