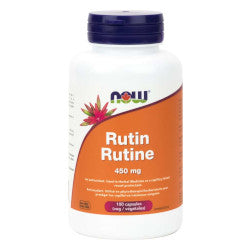 Now Rutin 450 mg - 100 Capsules
Rutin is a powerful combatant of free radicals and is best known for its role in vascular health. Rutin helps to maintain the structural integrity of blood vessels, such as veins and capillaries. Now Rutin is vegetarian and derived from a non-citrus source.
Brand: Now Foods
Format: Vegetarian Capsules
Amount: 100 Capsules

Medicinal Ingredients - Each Capsule Contains:
Rutin ..... 450 mg
     (from Japanese scholartree (Styphnolobium japonica) flower bud)
Non-Medicinal Ingredients: Veg capsule (hypromellose, water), stearic acid (vegetable source), silica.

NPN: 80035316