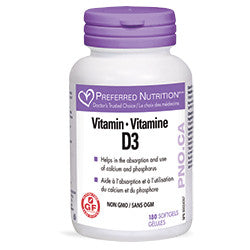 Preferred Vitamin D3 1000 IU - 180 Softgels
Vitamin D supplementation primarily helps prevent Vitamin D deficiency. The Vitamin helps in the development of bones and teeth, improves the absorption of calcium, and reduces the risk of osteoporosis.
Brand: Preferred Nutrition
Type: Softgel Capsules
Amount: 180 Softgels
Medicinal Ingredients - Each Softgel Contains:
Vitamin D3 (Cholecalciferol) ..... 25mcg (1000 IU)
Non-Medicinal Ingredients: Organic flaxseed oil, softgel (gelatin, glycerin, purified water).
NPN: 80024397