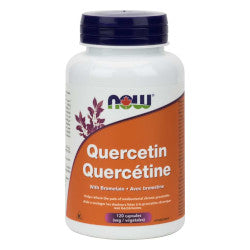 Now Quercetin with Bromelain - 120 Capsules
Quercetin is a naturally occurring bioflavonoid that supports healthy histamine levels, thereby helping to sustain a balanced immune response. Bromelain, an enzyme derived from pineapple stems, also supports healthy immune system function.  The combination of Quercetin and Bromelain therefore provides powerful immunomodulating benefits important for the management of occasional seasonal discomfort.
Brand: Now Foods
Format: Vegetarian Capsules
Amount: 120 Capsules
Medicinal Ingredients - Each Capsule Contains:
Quercetin (as Quercetin Anhydrous) ..... 400 mg
Bromelain (Ananas comosus) (Pineapple) ..... 82.5 mg (198 GDU)
     (Stem and Fruit)
Non-Medicinal Ingredients: Rice flour, veg capsule (hypromellose, water), cellulose, magnesium stearate (vegetable source), silica.

NPN: 80039849