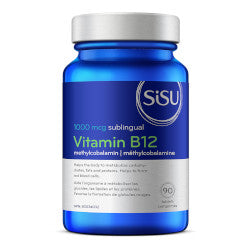 SISU Vitamin B12 Sublingual 1000 mcg - 180 Tablets
SISU Vitamin B12 features methylcobalamin, the active form of vitamin B12 in a fast dissolving, sublingual tablet that can be chewed or swallowed. Vitamin B12 is involved in energy production and supports the production of red blood cells.
Brand: SISU
Format: Sublingual Tablets
Amount: 180 Tablets
Medicinal Ingredients - Each Tablet Contains:
Vitamin B12 (methylcobalamin) ..... 1000 mcg
Non-Medicinal Ingredients: isomalt, microcrystalline cellulose, magnesium stearate (vegetable), calcium silicate, croscarmellose sodium.
NPN: 80034032