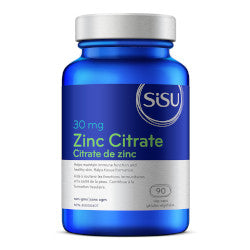 SISU Zinc Citrate 30 mg - 90 Capsules
Zinc is an essential mineral and particularly important for prostate health and male fertility, fetal growth, the production of insulin, eye health, and immune health. Important for the production of the male hormone testosterone, zinc may help improve sperm count and is a factor in prostate health.
Brand: SISU
Format: Vegetarian Capsules
Amount: 90 Capsules
Medicinal Ingredients - Each Capsule Contains:
Zinc (Zinc citrate) ..... 30 mg
Non-Medicinal Ingredients: microcrystalline cellulose, magnesium stearate (vegetable).
NPN: 80000407