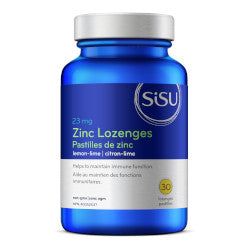 SISU Zinc Lozenges Lemon-Lime - 30 Lozenges
SISU Zinc lozenges is a high potency formula, featuring 23 mg of elemental zinc per lozenge. Zinc helps support immune system function for improved resistance to colds, flu, and other infections.
Brand: SISU
Format: Lozenges
Amount: 30 Lozenges
Medicinal Ingredients - Each Lozenge Contains:
Zinc (zinc citrate, zinc gluconate) ..... 23 mg
Non-Medicinal Ingredients: evaporated cane sugar, natural lemon-lime flavour, citric acid, magnesium stearate (vegetable), silicon dioxide, stearic acid (vegetable), microcrystalline cellulose.